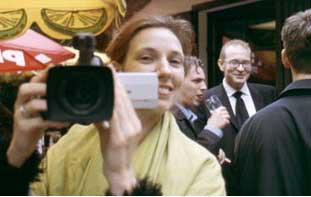 Willkommen auf der Seite von Ada & Zylla Film und Caroline Elias, Dolmetscherin und Übersetzerin (www.dolmetscher-berlin.blogspot.de...
Die Seite wurde mit einem einfachen Baukastensystem erstellt.

Ada & Zylla Film
Maybachufer 17
D - 12047 Berlin
Tel. +49-172/4998902
info@adazylla.de
Fotos von: KoppFilm, Friederike Elias, privat.
____________________________________

WAS WIR MACHEN:

Unsere Koproduktion "Çürük – The Pink Report", Ulrike Böhnisch, feierte auf dem Festival achtung berlin - new berlin film award 2011 Weltpremiere. 2011 und 2012 wurde er auf Festivals aller Kontinente gezeigt. Bravo, Uli!

Die Studie "Kinodokumentaristen in Deutschland" - Ein Berufsstand zwischen kreativer Freiheit und ökonomischen Zwängen, dargestellt im Vergleich zu Frankreich zu Beginn der digitalen Distributionsrevolution, wird von der DEFA-Stiftung gefördert.

Unsere Koproduktion aus dem Jahr 2008/2009, "Babelsberg d'Est en Ouest" (Babelsberg von Ost nach West), Bernard Louargant, lief am 9.11.2009 auf TV5. Im Anschluss daran unter anderem auf folgenden Festivals: Mediawave — international Film and Music Festival, Szombathely (Ungarn), 02.-12.06.2010, 4th Iran International Documentary Film Festival, 8-12.2010, Festival International du Film d'Amiens, 11.-22.11.2010, Festival Cinematografico Internacional Del Uruguay, 18.-30.04.2011

"Aus dem Alltag einer Filmdolmetscherin" - mein Artikel erschien Juli 2008 in der Zeitschrift MDÜ des Bundes der Dolmetscher und Übersetzer. Er kann beim BDÜ heruntergeladen werden.
______________________________________
CAROLINE ELIAS — INTERPRETER — upcoming dates

21.11. - Berlin (booked as interpreter/afternoon)
22.11. - Berlin (booked as interpreter/daytime)
23.11. - Berlin (booked as interpreter/daytime)
28.11. - Berlin (booked as interpreter/daytime)


Clients: AG KINO (association of german arthouse cinemas), ARD (Public Broadcaster, Arte, Berlinale Film Festival (Forum, competition), Berlin International Literature Festival, CICAE (european arthouse cinema association), Federal Minister of State for Culture, Federal Ministry of Food, Agriculture and Consumer Protection, French Ambassy (Berlin), german and french production companies and distributors (for example Celluloid Dreams, Concorde, Les Films d'ici, Wüste Film, Zero Film), Humboldt University, Jewish Film Festival, Munich Film Festival, Potsdam University and Film School HFF, Pierre Cardin, Radio Canada (TV and Radio), Radio France ...